I present to you the Creatures Roleplay (RP) Wiki, your one-stop source on all things Beautiful Creatures, a Pokémon: Mystery Dungeon (PMD) Roleplay hosted at the Pokécommunity forums, started on December 11th, 2013 and currently ongoing. This will be your repository on all information on everything regarding the Roleplay, its characters and many other things! We encorage any and all members of the cast to edit whatever they want in order to achieve a perfect , understandable resource for the Roleplay and the many things about it.
Quick LinksEdit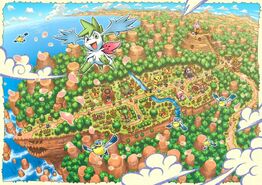 Home - the Pokecommunity Forums
Beautiful Creatures [Out of Character (OOC) Thread]
Beautiful Creatures [In Character (IC) Thread]
Lately...Edit
Ad blocker interference detected!
Wikia is a free-to-use site that makes money from advertising. We have a modified experience for viewers using ad blockers

Wikia is not accessible if you've made further modifications. Remove the custom ad blocker rule(s) and the page will load as expected.